Body Contouring Procedures Available
For those patients who cannot seem to shake away lingering pockets of fat from their trouble areas, Beverly Hills plastic surgeon Dr. A.J. Khalil offers several body enhancement procedures, including:
This procedure can be used to treat fat on many areas of the body, such as the back, thighs, arms, abdomen and neck. The technology first breaks up the fat, then suctions it out permanently. Results can last forever if you do not put on more weight.
With tummy tuck (also known as abdominoplasty), Dr. Khalil removes excess skin and fat through an incision to create a flatter, more toned-looking midsection.
Though it is natural for women to watch their bodies change after pregnancy,many women want their pre-pregnancy bodies back. Mommy makeover is a combination of surgeries designed to recontour your body close to its former shape.
Typically, gynecomastia is the product of a hormone imbalance in men, which produces extra, unwanted glandular breast tissue, creating a feminized physique around the chest. It is very rare that exercise or diet can fix this issue, so Dr. Khalil does usually recommend surgery for patients who want a tighter, more masculine chest.
Candidates for Body Sculpting Surgeries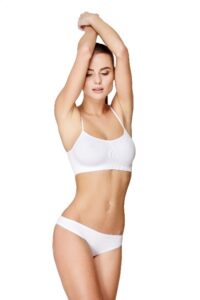 The ideal candidates for body contouring procedures are people who have put in the work when it comes to dieting and exercising yet still have not seen the full results they were hoping for. They should be non-smokers in good health overall in order to undergo elective surgeries, as well as be willing to set reasonable expectations about what these surgeries can accomplish.
Preparation for Body Enhancement Procedures
Patients should be close to their goal weight before their surgeries, particularly since body contouring procedures are not equivalent to weight loss surgeries. Rather, body enhancement helps to tone up the body and remove stubborn fat cells that prevent you from having the shape you have worked for.
Ahead of any such surgeries, you will meet with Dr. Khalil for a consultation to assess your suitability for the procedures, as well as to give you a thorough review of the procedures so that you may make a fully informed decision.
Cost of Body Contouring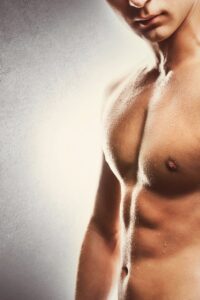 Prices differ depending on the procedure, the number of procedures being performed and the areas being targeted by these procedures. Dr. Khalil and his staff will be happy to quote you an amount when you come in for a consultation.
Recovery from Body Contouring Procedures
While your recovery timeline will obviously differ depending on which procedure(s) you undergo, in general you can plan to take 10 to 14 days off work following surgery so that you may rest. Also expect for some discomfort, swelling and bruising to last for roughly four to six weeks. You should not exercise during the first two months as that may be counterproductive to your recovery.
Patient Reviews for Body Enhancement
"Dr. Khalil is, hands down, THE very best doctor. Although I wanted a tummy tuck for years, I was very nervous, and Megan and Amalia were very calm and kind and answered a lot of my questions, and were very reassuring. Then I met Dr Khalil. From the consult to my post-op appointment… he took the best care of me. He was kind and had a great sense of humor. He was quick and thorough, and I had no bruising and the scar is smaller and thinner, far more than expected. I'm only one week and a half out, and I'm amazed at the results!! Dr. Khalil was the 6th doctor I consulted with prior to having this surgery… and he's my No. 1 choice! I made the best decision!" 

– Michelle Hubbard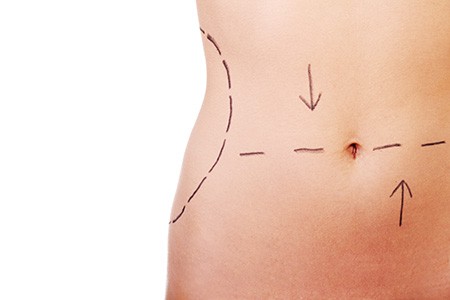 "Dr. Khalil is the best and the most genuine trustworthy surgeon hands down!!! Dr. Khalil's work speaks for itself. He is not only the best, but he "cares" for his patients. After your surgery, even in the middle of the night, he will check on you and ensure you are comfortable and doing well! I've experienced other surgeons who act like they will "care for you after surgery" but so far from the truth! Please do not go only by review numbers but by the quality of them! For example, most doctors make their own reviews by staff anyway. Dr. Khalil doesn't even ask you to write reviews (solely due to the confidence in his work and referring of his patients). His focus is his work and the results with care for his patients. I just care and want to leave a review to help you choose the best surgeon: look no further! Tummy Tuck, Breast Implants, Lipo, and advice on work I wanted but was truthful for my health to say yes or no! That's what you want. "Care," this is your life, not just your body. Choose Dr. Khalil :)"

– Heather Tramontana 
"Let me start off by just saying Dr. Khalil is ONE in a MILLION when it comes to surgeons. I've had three cosmetic surgeries with different doctors. I wish I would have found this place first. The staff is super nice and helpful, and that counts when you are nervous or unsure of what the procedure will consist of. However, what was the most important to me was the doctor. Dr. Khalil is very knowledgeable, and he answered all of my questions with confidence. Now, the best part of the whole experience was after the surgery. The cosmetic outcome was amazing. His stitching is impeccable, and my body looks 1,000 times better. After all is said and done, the only thing I can say is TAKE MY MONEY."

– Tasha Greaves 
Body Contouring FAQs
What cosmetic problems can body contouring procedures address?
Body enhancement procedures can directly remove fat cells from stubborn areas, excise sagging skin from the abdomen, and provide a more masculine contour for men. Cosmetic concerns include loose, sagging abdominal skin, unwanted fat, and enlarged male breast tissue. These issues often arise after natural aging, pregnancy, weight fluctuations, genetics, or a medical condition, including gynecomastia.
How long will my body contouring results last?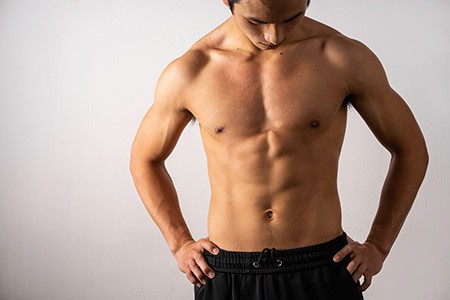 Body enhancement with liposuction, tummy tuck, mommy makeover, or male breast reduction is long-lasting. The fat cells and skin tissue surgically removed are gone forever. However, it is possible to gain weight because the remaining fat cells can expand with a poor diet and lack of exercise. Future weight gain will likely be more proportionate.
Loose skin treated with tummy tuck or as part of a mommy makeover will not return, but the tissues are still vulnerable to natural aging as collagen and elastin break down in the skin. Future pregnancies can affect tummy tuck and breast surgery outcomes. Women with breast implants as part of their mommy makeover will require implant revision or replacement eventually because implants are not lifelong devices.
Men can enjoy permanent breast correction for gynecomastia with male breast reduction as long as they maintain a stable weight and avoid drugs and medications that may have contributed to their condition.
Maintaining a healthy weight with diet and exercise will help you enjoy your new body contour long-term.
When will I see my body contouring results?
You will notice some improvement right after your procedure, with loose skin and excess fat gone and a better body or breast shape. Recovery from body enhancement procedures typically takes six weeks, but you may still have some swelling for several months. Your full results after tummy tuck, liposuction, or male breast reduction will settle in several months to a year after the procedure when the tissues have healed fully. That allows time for incision lines to fade and swelling to dissipate completely.
What are the benefits of body contouring?
Body enhancement procedures offer a more defined and well-shaped figure by removing fat, loose skin or excess male glandular tissue. You can enjoy a younger, thinner appearance with smoother skin and decreased symptoms from gynecomastia, such as less skin irritation and sensitivity. These procedures offer immediate and dramatic improvements that can't be achieved with non-surgical treatments or diet and exercise alone.
I lost a lot of weight. Should I have body contouring?
Body contouring helps with skin removal after significant weight loss. The skin and supportive tissues have typically lost their elasticity and struggle to conform to your smaller body shape. Body enhancement removes the sagging skin and residual fat for a thinner, tighter body shape. You will need to maintain a stable weight to enjoy permanent results.
How long should I be at a stable weight before tummy tuck and liposuction?
Men and women should be close to or at their desired weight and body size for at least six to 12 months before body contouring, especially if they recently lost a lot of weight. Patients must be within 10 to 15 pounds of their goal size to ensure their healthy lifestyle continues and for long-lasting results after tummy tuck and liposuction.
Why You Should Choose Dr. Khalil for Body Sculpting
Dr. Khalil is a long-time, award-winning, board certified plastic surgeon with extensive experience performing body contouring procedures. He prides himself on developing relationships with his patients so that the entire process feels both comfortable and rewarding, so do not hesitate to ask him any questions or share your concerns.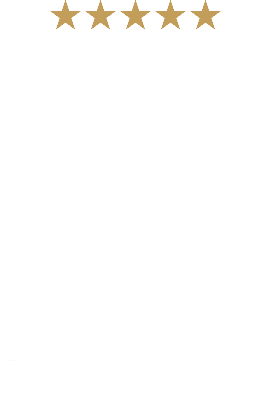 Our Reviews