Patients' Choice Award (2010-2014, 2016, 2019 & 2020)
Top 10 Doctor – City (2014)
Compassionate Doctor Recognition (2011 – 2017, 2019 & 2020)
On-Time Doctor Award (2014, 2016, 2017, 2019 & 2020)
Vitals Patients' Choice Award – Five Year Honoree
Achieve a Flatter, Firmer Stomach with Abdominoplasty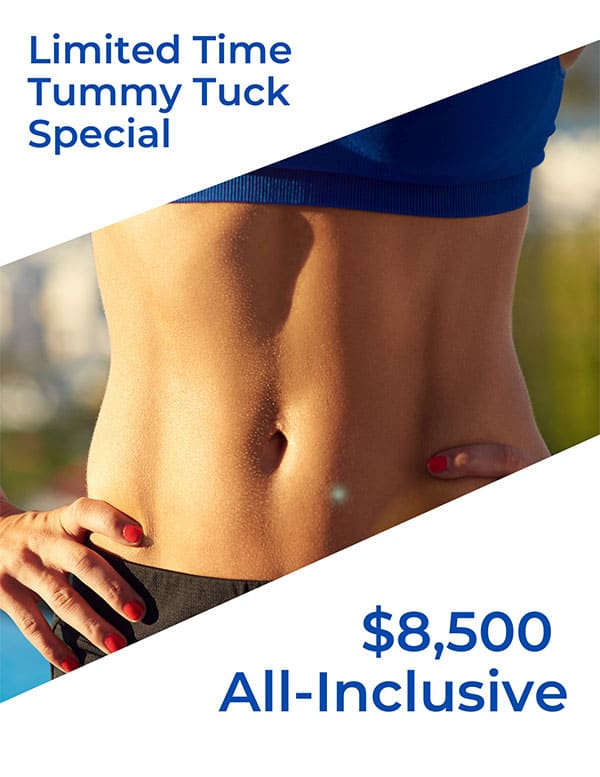 The midsection is a focus of concern for many people, especially women whose abdomens have changed after multiple pregnancies or individuals that have lost a significant amount of weight but still struggle with loose skin and tissue. Tummy tuck, also known as abdominoplasty, is intended to improve the contour of the stomach by removing loose skin and fat, repairing the muscles of the abdominal wall and tightening the skin. Tummy tuck is one of the body contouring procedures offered by board certified plastic surgeon A.J. Khalil, serving Beverly Hills and the surrounding areas.
Tummy Tuck Candidates
Tummy tuck is designed for individuals that dislike the look of their abdomens and cannot achieve their desired abdominal contour through diet or exercise. Many tummy tuck candidates have developed protruding, loose or sagging lower abdomens due to pregnancy, prior abdominal surgery, weight fluctuation, aging or hereditary factors. They struggle with loose skin and tissue, damaged muscles and unwanted fat.While tummy tuck does improve the shape of the abdomen and remove small amounts of fat, it is not intended as a substitute for weight loss. For this reason, suitable candidates should be at, or close to, their target weight. They should be in good health, not smoke, and exercise regularly. Women considering tummy tuck surgery should not plan to become pregnant after the operation, as future pregnancies can counteract the results.
INITIAL CONSULTATION FOR TUMMY TUCK
During the initial consultation, Dr. Khalil listens to the patient's aesthetic goals. After examining the abdomen, he offers his professional opinion on what the patient can realistically expect from this procedure. If appropriate, he may suggest an alternate treatment to better reach those goals. He then reviews several factors, including medical history, to confirm that the patient is a good candidate for elective surgery. Because tummy tuck is a highly customizable procedure, Dr. Khalil devises a surgical plan for the patient's unique body and quotes the cost of this plan.
The consultation is the patient's opportunity to develop a rapport with Dr. Khalil and learn more about the procedure. This allows the patient to make a fully informed decision about surgery.
Why Choose Dr. Khalil for Abdominoplasty?
Dr. Khalil is a trusted plastic surgeon with extensive training and experience. Known for his exceptional surgical skill, Dr. Khalil has a long track record of delivering beautiful and natural-looking tummy tuck results. He is an active member of several prestigious professional organizations, including the American Society of Plastic Surgeons and the American Society for Aesthetic Plastic Surgery.
In addition, Dr. Khalil is a distinguished Beverly Hills tummy tuck surgeon who has received numerous awards for his excellent work and patient relationships from Vitals.com, including:

Patients' Choice Award (2010-2014, 2016, 2019 & 2020)
Top 10 Doctor – City (2014)
Compassionate Doctor Recognition (2011 – 2017, 2019 & 2020)
On-Time Doctor Award (2014, 2016, 2017, 2019 & 2020)
Vitals Patients' Choice Award – Five Year Honoree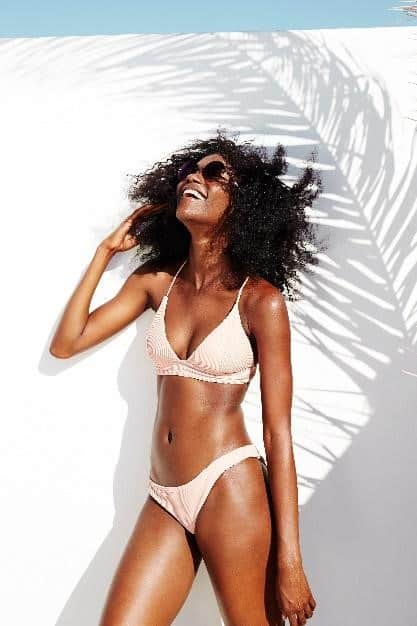 Dr. Khalil's tummy tuck patients love his warmness, surgical knowledge and willingness to answer questions. They regularly remark about how comfortable they feel in his care. They also are impressed with his technique. Although scarring is an inevitable part of plastic surgery, the scarring tends to be much less visible than it is when performed by other surgeons.
Tummy Tuck Surgical Details
Tummy tuck surgery is performed on an outpatient basis. The first step is to administer anesthesia medications to the patient.
Dr. Khalil begins surgery by creating a horizontal incision low on the abdomen (usually right above the pubic hairline). Through the incision, he repairs the abdominal muscles and tightens loose tissue. Liposuction may be performed to remove fat deposits. He may decide to make an additional incision around the navel to relocate it higher on the abdomen if needed. The skin from the upper abdomen is gently pulled down and any excess skin is removed. Finally, the remaining skin is sutured together and dressings or bandages are placed.
Tummy Tuck Surgery Recovery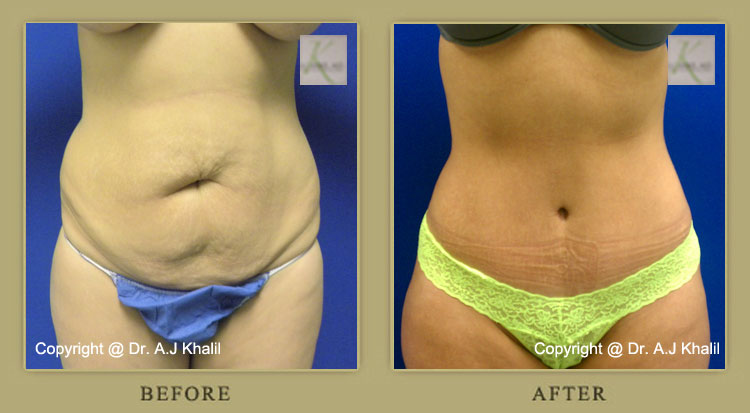 After surgery is complete, patients are monitored for a short time and then released to go home. Dr. Khalil provides comprehensive instructions that include how to care for the surgical site, medications to take, signs of a potential problem and a reminder for the follow-up appointments.
Bruising, swelling and soreness are common during the first two weeks of tummy tuck recovery. Patients are encouraged to rest and refrain from bending, lifting or straining. Short, casual walks are recommended to encourage good circulation and aid healing. Most patients return to work two weeks after surgery and gradually add exercise into their daily routine. Keep in mind that while you may be able to resume your normal exercise routine after three to six weeks, you may have to do so at a modified pace. Dr. Khalil will recommend what exercises are safe to perform at different stages of recovery depending on your healing progress. Dr. Khalil will also monitor the recovery process and advise when it is safe to go back to work, driving, socializing and other normal activities.
You will need to wear your compression garment/binder (which helps control swelling) for several weeks after surgery, as directed by Dr. Khalil. Although the majority of swelling will go away after two weeks, residual swelling may be present for several months (up to a year) after surgery.
Results by Dr. Khalil
Flatter stomach
Firmer abdomen contour
Body type proportionate to your size
Slimmer profile
Post-Op Treatment
Post-surgery bandages will be added to your incision site. It is normal for fluids to accumulate between the muscles and fat after surgery. Once or twice during recovery, patients may come in to have this fluid drained with small tubes to accelerate the recovery process.
Dr. Khalil will give you specific instructions on how to care for the surgical site while recovering. This includes how long you will wear your garment and when to follow-up.
TUMMY TUCK TESTIMONIALS
"After consultations with several different doctors, I found the most comfort with Dr. Khalil. I really appreciated his patience with all my questions, his candor and expertise. I must say Dr. Khalil has been just as available to me post-op as he was pre-op and that has made this process much easier. Words cannot express how pleased I am with my tummy tuck results! Choosing this procedure and Dr. Khalil as my surgeon were two of the best decisions I've ever made!" – S.L.
"I can't tell you enough how amazing this doctor is. My tummy is thinner than it was before my two kids. Dr. Khalil has helped me feel better with myself: I have regained self-esteem." – C.G.
"Dr. Khalil is friendly, gifted and totally truthful about the process, outcome and what can and can't be done. My results are amazing and possibly exceeded my expectations. My tummy is completely flat (there's even definition!) and my scar is a thin clean line that seems like it will be practically invisible soon." – J.D.
Tummy Tuck Frequently Asked Questions
Can I lose weight with tummy tuck?
No, tummy tuck is not considered an effective way to lose weight. You should not have tummy tuck if your goal is to lose weight. For best results, you should be close to your ideal weight before surgery. Tummy tuck may remove a few pounds of excess skin and fat but the amount is negligible.
Keeping that in mind, some tummy tuck patients do lose weight after surgery because they are inspired and motivated by their results to eat right and exercise regularly.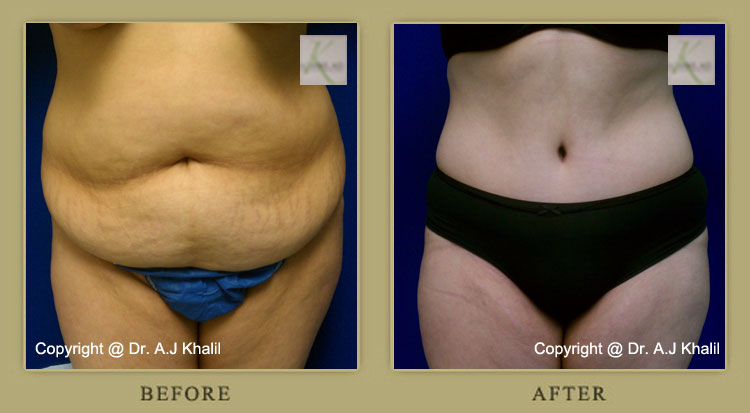 Does tummy tuck leave scarring?
The tummy tuck scar is usually located on the lower abdomen right above the pubic hairline. Dr. Khalil can position the incision so that scarring can be easily concealed beneath a bathing suit or panty. Most patients feel it is worth it to trade the scar for a flatter, firmer abdominal contour.
Is liposuction performed during abdominoplasty surgery?
Yes, liposuction techniques are usually included in the abdominoplasty procedure to reduce selective pockets of fat around the sides of the abdomen and flanks. This can help give the waistline a narrower profile and enhance the overall results of tummy tuck.
Sometimes other areas of the body can be liposuctioned in combination with abdominoplasty for a full mommy makeover. If you are interested, discuss this option with Dr. Khalil during consultation.
Are the results of tummy tuck permanent?
The results of tummy tuck can last decades, provided the patient does not gain a significant amount of weight or become pregnant in the future. Pregnancy or substantial weight gain after tummy tuck can stretch out the abdominal muscles and skin, reversing many of the improvements achieved by surgery.
Dr. Khalil urges all of his tummy tuck patients to maintain their weight as best possible through healthy diet and exercise habits. He also advises candidates to postpone surgery until they are finished having biological children.
What are the risks and complications of tummy tuck?
When performed by an experienced, board-certified plastic surgeon, tummy tuck is usually a safe procedure. However, like any surgery there are risks.
Tummy tuck risks include the following:
Hematoma
Poor scarring
Infection
Accumulation of fluid
Numbness or tenderness in the treated area
Nerve damage
Pain or discomfort
Dr. Khalil is happy to discuss the measures he takes to mitigate these risks during a one-on-one tummy tuck consultation.
Do I need tummy tuck or liposuction?
The best way to determine whether tummy tuck or liposuction is more appropriate for your personal needs is to meet with a board certified plastic surgeon like Dr. Khalil. The surgeon can examine you and ask about your specific goals of treatment.
Generally, tummy tuck is a good option for individuals that have excess fat and skin and damaged abdominal muscles. This might include women that have had multiple pregnancies or individuals that have gained and lost a significant amount of weight. During the operation, excess skin is trimmed, the remaining skin is tightened and the abdominal muscles are repaired.
Individuals whose ab muscles are intact and have firm, elastic skin with localized fat deposits are typically better suited to liposuction.
What is a mini tummy tuck? How is it different from a traditional tummy tuck?
As the name suggests, a mini tummy tuck is a modified version of traditional tummy tuck. Mini tummy tuck addresses loose skin and excess fat on the lower abdomen only and, as a result, involves a limited incision and quicker recovery than traditional tummy tuck. If your trouble spots are limited to the lower abdomen, Dr. Khalil may recommend a mini tummy tuck.
Are there non-surgical alternatives to tummy tuck?
Advances in plastic surgery have made way for non-surgical skin tightening alternatives to tummy tuck via laser and radiofrequency technology. However, it is important for patients to understand that these alternative procedures are limited in what they can treat and therefore the results they can produce. Dr. Khalil can discuss the advantages and disadvantages of these procedures during an in-office consultation.
What is the cost of tummy tuck surgery?
The price of this procedure typically falls in the $7,500 to $15,000 range, which is a competitive rate for tummy tuck in Beverly Hills. The exact cost of tummy tuck surgery depends on a variety of factors including the degree of correction needed and the desired outcome. For instance, a mini tummy tuck requires less surgery and generally costs less than full tummy tuck. Whether liposuction will be performed with the tummy tuck procedure will also affect the final cost of treatment. Dr. Khalil can give you an accurate estimate of the cost of your procedure upon meeting with you and evaluating your individual case.
Dr. Khalil is pleased to offer tummy tuck and other body contouring procedures at a competitive and affordable price to patients in Beverly Hills and the surrounding Los Angeles area. He offers financing through Prosper Healthcare Lending to help patients pay for their procedure through affordable monthly payments. Learn more about financing with Prosper Healthcare Lending by scheduling a consultation with Dr. Khalil or by visiting our financing page.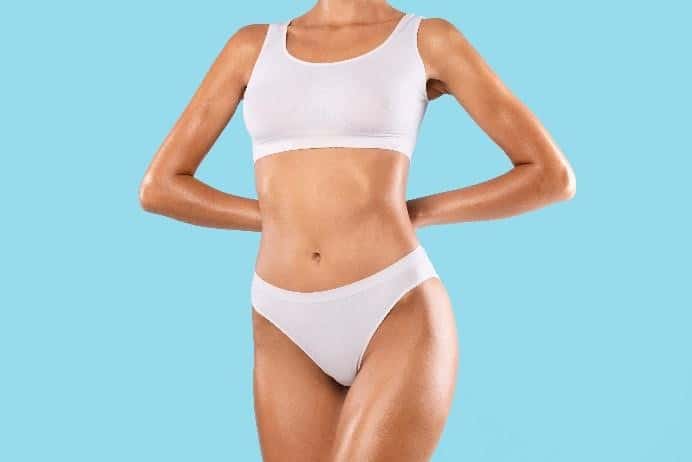 CAN TUMMY TUCK CLEAR UP MY STRETCH MARKS?
If you have stretch marks on your lower abdomen (below the belly button), then you are likely to see a marked improvement to the texture of the skin after tummy tuck. When skin in this region is excised and pulled tighter, the stretch marks here disappear. However, you should be aware that stretch marks outside of this area are not improved by this surgery. If your stretch marks are a primary concern for you, Dr. Khalil would be happy to discuss other or alternative treatment options.
ARE THERE MEDICAL BENEFITS TO TUMMY TUCK?
Although most patients choose tummy tuck for cosmetic purposes, there are some known health benefits that can accompany the procedure as well. Diastasis recti is the separation of the abdominal (six-pack) muscles that most often occurs during pregnancy. Tummy tuck rejoins the muscles to correct the separation and recreate definition. Some patients find that abdominoplasty is effective at relieving chronic lower back pain. When the abdominal muscles are tightened during a tummy tuck, this helps to stabilize the spine and improve posture.
Contact Our Beverly Hills Tummy Tuck Surgeon
For more information about tummy tuck surgery, please contact Dr. Khalil and request a consultation. Call or email our practice to make your appointment today.
*Results May Vary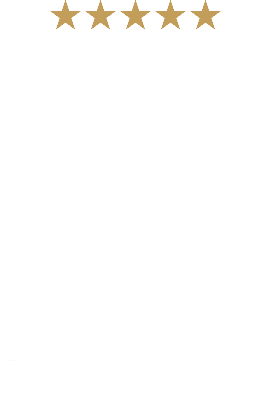 Our Reviews