enhance naturally small breasts
enhance breasts that have lost volume or shape after pregnancy/nursing
correct asymmetrical breasts
correct and balance different sized breasts (i.e., tuberous breasts)
restore normal appearance to breasts that have suffered trauma or a congenital abnormality
Breast Augmentation Special
*Dr. Khalil never uses textured implants. The $4500 Saline Breast Augmentation pricing is only valid for a limited time. Call today to make your appointment (310) 385-8601
The most popular plastic surgery procedure in the country is breast augmentation, which involves increasing the size and volume of the breasts with saline or silicone implants. Breast augmentation also has one of the highest rates of patient satisfaction, as patients tend to experience a significant boost in confidence after the placement of breast implants.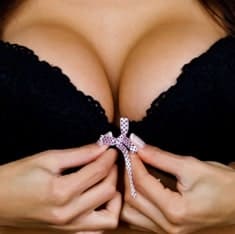 Dr. A.J. Khalil is a trusted Beverly Hills breast implant surgeon that has helped thousands of women achieve the sexier, more voluptuous cleavage they desire. Patients can expect to receive expert care and personalized attention throughout their entire experience with Dr. Khalil.
Breast Implant Candidates
The best candidates for breast augmentation in Beverly Hills are healthy women over the age of 18 (for saline implants) or 21 (for silicone implants) that want to achieve one or more of the following:
enhance naturally small breasts
enhance breasts that have lost volume or shape after pregnancy/nursing
correct asymmetrical breasts
correct and balance different sized breasts (i.e., tuberous breasts)
restore normal appearance to breasts that have suffered trauma or a congenital abnormality
Candidates should have specific and reasonable goals of breast implant surgery and understand the possible (rare) risks. All of this information is covered during a breast implant consultation with Dr. Khalil at his Beverly Hills plastic surgery practice.
Why Choose Dr. Khalil for Breast Augmentation Surgery?
Dr. AJ Khalil is an elite breast augmentation surgeon in Beverly Hills that has years of experience providing patients with their ideal body figure. Dr. Khalil has studied with some of the best breast surgeons in the world including Dr. Dennis Hammond at the Center for Breast and Body Contouring. Through his training, Dr. Khalil has learned valuable techniques to ensure that his patients receive the best possible care. His advanced techniques enable to him to perform breast augmentation with smaller, less noticeable scars than other plastic surgeons.
"Dr. Khalil performed my breast augmentation 2 years ago this month, and I am still thankful everyday that I had the surgery and chose him to do it! He has a wonderful bedside manner, is extremely knowledgeable and is so easy to work with." – Yelp Review, November 2017
Awards and Recognition

Patients' Choice Award (2010-2014, 2016, 2019 & 2020)
Top 10 Doctor – City (2014)
Compassionate Doctor Recognition (2011 – 2017, 2019 & 2020)
On-Time Doctor Award (2014, 2016, 2017, 2019 & 2020)
Vitals Patients' Choice Award – Five Year Honoree
Your Breast Augmentation Consultation
Your initial consultation is the perfect time to get clarification on any questions or concerns you may have about breast augmentation. It is also the time to get acquainted with your potential surgeon and determine whether he or she is qualified to perform the procedure. Questions to ask your surgeon about their qualifications include:
Are you board-certified by the American Board of Plastic Surgery?
Where do you have hospital privileges?
How long have you been performing breast augmentation?
Is your surgical facility accredited by a national/state-recognized accrediting agency?
Do you have before-and-after pictures I can view?
Your initial consultation is also the time when your plastic surgeon will determine whether breast augmentation is right for you. Your surgeon will evaluate your full medical history and conduct a physical examination of your breasts. He or she will ask you detailed questions about your aesthetic concerns and goals. It is essential that you be candid with your surgeon so he or she can design a treatment plan that achieves the more desirable results. Some women find it helpful to bring photos of their desired breast enhancement outcomes. If you choose to do so, make sure to bring photos of women with a similar body type as yours. Other topics to be covered during your consultation include details of the procedure, potential risks and complications, pre- and post-op instructions and pricing.
Selecting the Best Size & Type of Breast Implants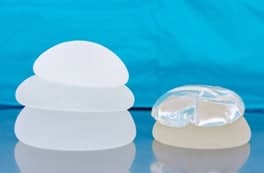 Breast implants come in different types, sizes, shapes and profiles. Dr. Khalil works with every patient to help her choose the implant details that best suit her body type, desired cosmetic outcomes and lifestyle.
Implant Types
Implants are filled with either a saline or silicone material. Each type of implant has its own set of advantages; Dr. Khalil will help the patient to select the best option for her needs and goals.
Implant Shapes
Implants come in round and teardrop shapes. Round implants have a spherical shape whereas teardrop implants have a gentle sloping curve, similar to a natural breast.
Implant Sizes
Implants are measured in cubic centimeters (cc's). The most modest implants are about 200 cc's and the biggest implants are 500+ cc's. It is very important to consider proportion and balance when selecting implant size. Many women want implants that complement their body type and shape and do not look "top heavy."
Implant Profiles
Implant profile refers to how far the implant projects from its base on the chest. Implants come in moderate to ultra-high profile. High profile implants are a little narrower, side-to-side, but rounder; moderate profile implants are a bit wider but less full on top.
Moderate Profile Implant – For patients who want a more natural or small increase in breast volume. It is the lowest profile implant which means they have the slightest projection for a given diameter.
Moderate Plus Implant – An implant profile in between the medium and high-profile breast implant profile. This implant has greater projection for a given base diameter than the moderate profile and has less projection than the high profile.
High Profile Implant – Also known as the augmented look, this implant profile is designed for patients who have small ribcages and for women who do not have a lot of breast tissue. It is much narrower than other breast implants and projects more outward.
Ultra-High-Profile Implant – Ideal for women with narrow chests who want to go bigger. This type of implant offers the fullness and forward projection that most patients are seeking.
IMPLANT PLACEMENT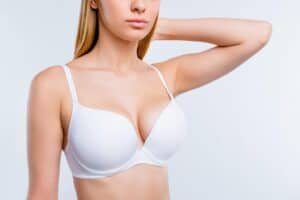 Dr. Khalil can place breast implants either above or below the pectoral muscle to best achieve the patient's desired look and feel.
Subglandular placement puts the implant between the breast tissue and the muscle. It provides more fullness and cleavage to the upper breasts. It is recommended for women who plan to or may breastfeed at some point in the future. Implants placed in this manner are less likely to shift while exercising. Unfortunately, these implants have a slightly higher risk for capsular contracture.
Submuscular placement positions the implant beneath the chest muscle. Results tend to look more natural with this placement, and it is easier to undergo mammograms. The recovery period is generally longer for women who choose this placement, though it is considered safer overall because of the lowered risk of forming hard scar tissue that causes capsular contracture.
Saline Breast Implants
Saline breast Implants are another popular alternative for patients who are considering breast augmentation. It consists of a silicone shell filled with sterile salt water, which gives the breast a rounder shape. Our Beverly Hills plastic surgery clinic offers this type of implant to women 18 years and older.
Pros & Cons of Saline Breast Implants
Pros
For patients considering breast augmentation in Beverly Hills, a saline breast implant offers more volume choices based on the patient's choice of implant size.
Scarring is less with saline breast implants. Since they are inserted un-filled, the incisions needed to place saline implants are somewhat smaller.
They cost less than silicone breast implants.
There is no silent rupture. No need for X-ray or MRI either to know if ruptured occurred. The body absorbs the sterile solution which causes a deflation in the size of the breast
Cons
Some people find it to have a stiffer, less-natural feel than silicone implants.
Rippling. It has a higher tendency to wrinkle and ripple.
Rupture Rate. Patients are more at risk of deflating and rupturing with saline implants.
Silicone Breast Implants
Women who are considering breast augmentation to change the size and shape of their breasts can opt for silicone breast implants. This kind of implant is pre-filled with silicone gel which gives it the look and feel of natural breast tissue. Silicone breast implants are available to women age 22 or older at Dr. Khalil's Beverly Hills plastic surgery practice.
Pros & Cons of Silicone Breast Implants
Pros
Silicone breast implants are FDA approved and considered to be safe for breast augmentation, breast revision, and breast reconstruction surgeries.
Silicone breast implants closely resemble natural breast tissue. Most women prefer them because they have a more realistic feel and more natural look.
Silicone implants are light so there is a lower risk of downward displacement due to gravity with this type of implant.
Since silicone is thicker, the shell doesn't fold as easily and the implants are less prone to wrinkling or rippling.
Cons
When it comes to surgery, silicone breast implants are already pre-filled. As a result, they require larger incisions and can cause slight scarring.
Cost. On average, silicone breast implants are slightly more expensive than other implants because of their natural feel and the fact that they retain their shape and size for years.
Rupture. Silicone is not absorbed by the body so ruptures or leaks are harder to detect without using an X-ray.
Breast Augmentation Surgical Details
For Beverly Hills patients breast augmentation is usually performed on an outpatient basis. Anesthesia is used for the patient's comfort. To begin the operation, Dr. Khalil makes an incision in the pre-determined location. The incision can be created around the edge of the areola, under the crease of the breast where the breast meets the torso, or in the armpit.
Next, Dr. Khalil creates the pocket in which the implant will sit. This pocket may be located either in front of or behind the chest muscle (another decision that is made ahead of time with the patient). After positioning the implant, he closes the incisions with sutures and wraps the breasts in gauze dressings and an elastic bandage or support bra.
Breast Augmentation Recovery & Results
Patients are usually monitored for a few hours after surgery and then released to go home. It is common to experience swelling and soreness during the first few weeks. Following surgery gauze will cover the breasts, and the patient must wear a surgical bra. During the healing process, breast implant patients are encouraged to wear their support bra for at least two weeks to reduce swelling. The healing process is gradual as the position of the implants will initially appear high. As the tissue stretches to accommodate the implant, the breasts will settle and appear more natural looking. It is important to adhere to the exercise restrictions provided by Dr. Khalil as well as take the appropriate time off in order to achieve the best results. You may resume normal activity based on the guidelines given. Please be sure to follow given guidelines as these will ensure a flawless, quick and thorough recovery. A more in-depth review of post-operative instructions and recovery time is provided with the free consultation. Breast implants are long-lasting devices and do not need to be removed or replaced unless there is a complication or the patient no longer likes the way they look.
To view results from Dr. Khalil's previous Beverly Hills breast implant patients, visit our breast augmentation before and after photo gallery.
BREAST AUGMENTATION RISKS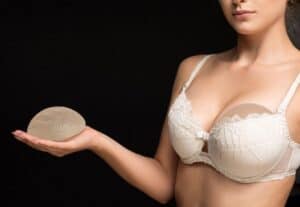 Breast augmentation is a very safe procedure, particularly when performed by an elite surgeon like Dr. Khalil. All surgeries carry some inherent risks, however. Breast augmentation patients may experience a change in breast or nipple sensation, bleeding, infection, poor scar healing or implant rupture. Dr. Khalil's commitment to providing quality care continues through the recovery period, so patients should feel comfortable to ask questions to ensure their healing process is progressing normally.
The FDA has recently changed its guidance regarding textured implants, due to an increased risk for developing breast implant-associated anaplastic large cell lymphoma (BIA-ALCL). For the ongoing health and safety of his patients, Dr. Khalil does not use textured implants.
TESTIMONIALS FROM DR. KHALIL'S BREAST AUGMENTATION PATIENTS
"I came for the price and expertise and left with not only the BEST results but the best experience. I've never had surgery like this before, so I was expecting to be nervous, but he made feel so at ease through the entire process." – Taryn A.
"Dr. Khalil helped me with my decision on the perfect breast size for my body and made me feel extremely comfortable throughout the process. I'm beyond satisfied with my results. All of their workers in the office are extremely sweet and very helpful!" – Daisy S.
"I spent months researching doctors online. Dr. Khalil is a master when it comes to breast augmentations. One reason I chose Dr. Khalil is because I was pretty certain that I wanted a periareolar or nipple incision versus an inframammary fold (in the breast crease) incision. Many doctors try to dissuade you form choosing this option, mainly, I believe, because it takes a little more effort and time to do so." – M.G.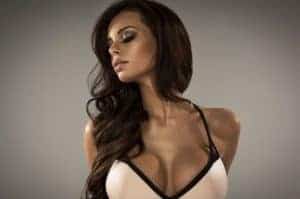 Breast Augmentation FAQs
Is there a non-surgical alternative to breast augmentation?
Unfortunately, there are no creams, pills or other non-surgical products that have been shown to enlarge the breasts. In fact, some can have serious effects on the body. For instance, some pills and supplements can interact with certain medications and lead to serious health complications. The only safe and effective way to add volume and shape to the breasts is with the placement of saline or silicone implants. Both types of breast implants are extremely safe and some of the most studied medical devices in the world.
When does the swelling subside after breast augmentation?
The swelling from breast augmentation should subside about two to three months after surgery. The breasts often look larger than they are due to initial swelling. Expect to see a change in breast shape and size as the breasts heal.
Will scarring be visible?
As with all surgical procedures, some scarring is to be expected with breast augmentation. When performed by a highly qualified breast augmentation surgeon, like Dr. Khalil, these scars should fade over time. Dr. Khalil will also provide you with detailed instructions on how to care for your scars during your recovery, so they can heal and fade properly.
Do I need a lift with my implants?
Whether you need a breast lift with the placement of implants depends on a few factors.
A great way to tell is to look at the position of your nipples in relation to the natural crease below your breast (where the breast meets the torso). If your nipple sits below this crease, you would likely benefit from breast lift with the placement of implants. Simply placing implants without adding in lift techniques would likely accentuate the sagging.
To determine the appropriate plan of treatment, consult with Dr. Khalil. After examination and discussion, he can provide his professional recommendations.
Does breast augmentation affect the size of the nipples? Will nipple sensitivity change?
Placing breast implants usually does not affect the size of the nipples and areolas. The areolas may look slightly fuller, but not significantly larger. Breast augmentation sometimes causes changes in nipple sensation and sensitivity, whether the surgery is performed through periareolar incisions or other incision patterns. A small percentage of patients have nipple hypersensitivity, whereas others may lose sensation. This is usually temporary as the breasts heal.
Dr. Khalil can explain these risks in more detail during consultation if you are concerned.
How much does breast augmentation cost in Beverly Hills?
The cost of breast augmentation in Beverly Hills will vary from patient to patient depending on a number of factors. These factors include the size of the breast implants, the type of implant, and if the procedure will also include a breast lift. Generally speaking, saline implants typically cost less than silicone implants. However, you should meet with a board-certified plastic surgeon to get an accurate estimate of your procedure cost.
Dr. Khalil prides himself on offering breast augmentation and other breast enhancement procedures at a competitive and affordable price. He also offers several financing options to help women pay for their procedure with monthly, low-cost payments. To learn about financing your breast enhancement surgery with Prosper Healthcare Lending, please visit our financing page.
HOW DO I CHOOSE AN IMPLANT SIZE AND SHAPE?
Implant size and shape is generally determined by your personal preferences. Larger implants are great for enhancing the breasts with noticeable contours, while smaller implants can boost the profile while still looking natural. As a breast specialist, Dr. Khalil can make recommendations as to which sizes and types of implants will best achieve your desired look and complement your existing body size. You will have the opportunity to test the size and appearance of the implants prior to surgery to confirm that they are to your liking.
WILL INSURANCE COVER MY BREAST AUGMENTATION?
Because breast augmentation is a cosmetic, elective procedure, it is not covered by most health insurance plans. However, women who have had a mastectomy or have a significant breast deformity are likely entitled to coverage for breast reconstruction.
Learn More About Breast Augmentation with Dr. Khalil
If you would like to learn more about breast implant surgery in Beverly Hills, contact Dr. AJ Khalil to schedule a consultation. Dr. Khalil is an experienced plastic surgeon that has provided countless Los Angeles area patients with access to the latest breast augmentation techniques.
Featured Breast Surgery Articles:
Choosing Your Breast Implant Size: Dos and Don'ts
How Long Do Breast Implants Last?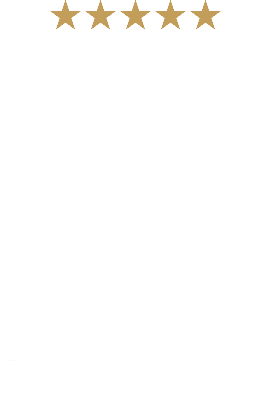 Our Reviews