Patients' Choice Award (2010-2014, 2016, 2019 & 2020)
Top 10 Doctor – City (2014)
Compassionate Doctor Recognition (2011 – 2017, 2019 & 2020)
On-Time Doctor Award (2014, 2016, 2017, 2019 & 2020)
Vitals Patients' Choice Award – Five Year Honoree
WHAT IS GYNECOMASTIA?
Gynecomastia is the enlargement of a man's breasts and presence of excessive glandular breast tissue. Gynecomastia generally results from hormone imbalance or a high concentration of estrogen caused by certain medications and health conditions (such as obesity). Men with gynecomastia may notice that their breasts look overdeveloped and may resemble women's breasts.
NON-SURGICAL GYNECOMASTIA TREATMENTS
Because gynecomastia is a result of excess glandular tissue and not fat, weight loss efforts in the form of diet, exercise or bariatric surgery have little to no effect on the condition. Nor is there any evidence that pills, creams and other forms of medication can treat gynecomastia. Dr. Khalil warns male patients of medications and other non-surgical treatments that claim to treat gynecomastia as some can cause an allergic reaction, have other adverse effects on the body or even worsen the condition.
MALE BREAST REDUCTION SURGERY
The only proven solution to gynecomastia is male breast reduction surgery. The surgical procedure removes loose skin that can no longer return to its once tight and firm state, and removes excess glandular tissue that is resistant to weight loss efforts. If necessary, Dr. Khalil can also reposition and resize the areolas and nipples for a more natural-looking and aesthetically pleasing appearance.
MALE BREAST REDUCTION CANDIDATES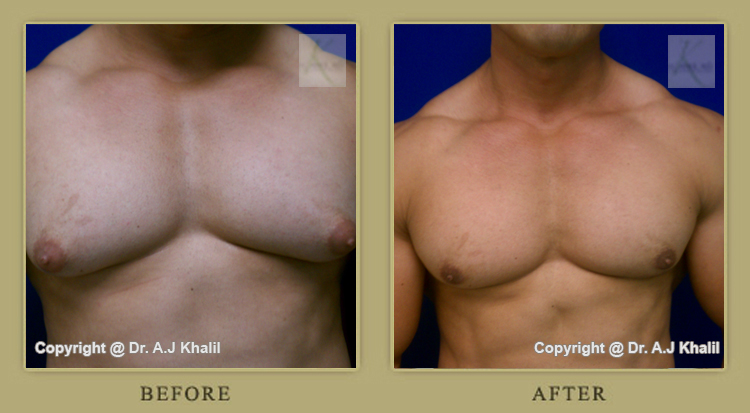 Since gynecomastia can be a side effect of things such as obesity or recreational drug use, individuals dealing with these situations are first urged to attempt to try drug cessation or exercise in order to see if the issue can be solved before surgery is considered. Other than that, any men who are in good overall health, have a stable weight and have elastic skin that is capable of reshaping after surgery are considered good candidates for male breast reduction surgery.
Dr. Khalil meets with each patient individually to determine whether male breast reduction surgery is the right solution. The surgeon performs a physical examination of the patient's chest and asks questions about his medical history. He will also ask the patient to describe his cosmetic goals. Using this information, Dr. Khalil will create a treatment plan that achieves the best outcome.
WHY CHOOSE DR. KHALIL FOR MALE BREAST REDUCTION SURGERY?
Dr. Khalil is a distinguished Beverly Hills gynecomastia surgeon who has received recognition for his excellent work and patient relationships from VITALS including:

Patients' Choice Award (2010-2014 & 2016)
Top 10 Doctor – City (2014)
Compassionate Doctor Recognition (2010-2014 & 2016)
On-Time Doctor Award (2014, 2016)
Patients' Choice 5th Anniversary Award (2014)
MALE BREAST REDUCTION PROCEDURE DETAILS
Male breast reduction surgery is generally performed as an outpatient procedure. Anesthesia is administered to ensure the patient's comfort.
If there are localized pockets of fat present, Dr. Khalil can remove them during the procedure using liposuction. This involves creating tiny, strategically placed incisions in the areas of fat and inserting a thin tube (called a cannula) to break up the fat. Dr. Khalil then removes the fat using gentle suction. The doctor then excises any excess glandular tissue and skin and retightens the remaining tissue and skin for a tighter appearance. If necessary, he will reduce oversized areolas and reposition the nipples on the chest for a more aesthetically pleasing appearance. Once Dr. Khalil is done making the surgical modifications, he will close the incisions with sutures and place surgical dressings over the treated area.
*Results May Vary
Preparing for Male Breast Reduction
Preparing for gynecomastia surgery leads to safe, successful outcomes. Dr. Khalil recommends making the following preparations:
Patients who smoke must quit at least six weeks prior to surgery. Smoking raises the risk of complications during and after surgery.
Patients must stop taking medications, vitamins and herbal supplements that could adversely interact with anesthesia during surgery or lead to increased bleeding or other complications. This includes aspirin, non-steroidal anti-inflammatory drugs, blood thinners, vitamin E, St. John's Wort and gingko biloba. Dr. Khalil provides a complete list of medications to avoid.
Patients must schedule time off from work or school to undergo surgery and recuperate. Most patients feel good enough to resume work and school 10 to 14 days after surgery.
Patients must make arrangements for the day of surgery. They must have a relative or friend drive them home and care for them during the first 24 hours after surgery.
Gynecomastia Surgery RECOVERY
The recovery from the breast reduction process varies from person to person, but most men are generally back up and running sooner rather than later. For the first three to five days, patients should expect some slight swelling which will be reduced by compression bandages and special drains. After about four to seven days, most men are able to return to light duty work, and within two weeks the majority of individuals will begin to actually see the shape of their chests beginning to change. Within one to three months, any remaining sagging skin should be retracting and bodily contouring will be well on its way.
WHAT KIND OF RESULTS CAN I EXPECT FROM MALE BREAST REDUCTION?
Once any residual swelling has subsided and the body has fully healed, you can expect a firmer and more masculine-looking chest appearance. Many male breast reduction patients find that their feelings of self-consciousness over the appearance of their chest go away. Form-fitting clothing looks better over their flatter chest, and they feel more comfortable going shirtless in public settings. Exercise becomes more enjoyable as physical discomfort caused by excess skin folds on the chest area is eliminated.
Male Breast Reduction Frequently Asked Questions
Can oversized areolas be reduced during male breast reduction?
Yes, if the patient is unhappy with the size or shape of his areolas – the dark skin surrounding the nipples – Dr. Khalil can correct the problem during surgery.
Is gynecomastia surgery or recovery painful?
Surgery is not painful because anesthesia is administered. Patients may experience mild discomfort after surgery, which can be controlled by taking prescription or over-the-counter pain medication.
When can I resume exercise after surgery?
Dr. Khalil permits patients to resume light activity, such as walking, as soon as they feel up to it. Patients are asked to gradually increase their physical activities, avoiding high-intensity exercise at first. Dr. Khalil advises when patients can resume chest and arm workouts (usually four to six weeks after surgery).
How long do the results of gynecomastia surgery last?
The results of gynecomastia surgery generally last for many years, but there are a few exceptions. Gynecomastia could return if the patient's weight fluctuates significantly after surgery, or if a medication or underlying medical condition causing or contributing to breast development is not discontinued or addressed. For example, continuing to use steroids or street drugs after gynecomastia surgery could cause a recurrence of gynecomastia.
What are the risks of male breast reduction?
Every surgery carries risks, and the risks of male breast reduction include the following:
Infection
Bleeding
Asymmetry between the breasts
Temporary or permanent changes in breast or nipple sensation
Poor wound healing
Adverse reaction to anesthesia
Selecting a board-certified plastic surgeon such as Dr. Khalil to perform the operation reduces the risk of complications during and after surgery.
Are the scars of gynecomastia surgery noticeable?
Scarring is a big concern of Dr. Khalil's patients and he is very careful when planning out the surgical incisions. He creates the incisions in the existing folds and creases of the breast skin, so scarring blends in with the natural transitions. With the proper aftercare, the incisions should heal very well and scars should be virtually unnoticeable.
How much does gynecomastia surgery cost?
The cost of male breast reduction can vary from patient to patient depending on the extent of treatment needed. Dr. Khalil is happy to provide a price quote upon consultation.
Male breast reduction surgery in Beverly Hills is a safe and effective procedure to help you solve physical and emotional discomfort caused by gynecomastia. Anyone who is currently dealing with this condition is encouraged to contact Dr. Khalil today for a free, confidential, and risk-free consultation. After all, life is too short not to live it in the best possible style.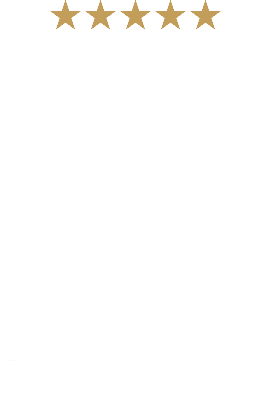 Our Reviews