One of the fastest-growing plastic surgery procedures in the United States is Brazilian Butt Lift. Not only does Brazilian Butt Lift add shape and volume to the buttocks, it does so using unwanted fat from areas in which it exists in surplus. This combination means that patients can enjoy the lean waist or thighs they desire and a fuller and perkier butt.
Dr. A.J. Khalil is one of Beverly Hills' leading Brazilian Butt Lift surgeons and has helped a number of patients achieve the beautiful and shapely physique they desire.
Candidates for Brazilian Butt Lift in Beverly Hills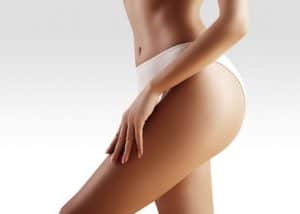 Brazilian Butt Lift attracts a lot of attention from individuals that want to increase the size and fullness of their behind without the placement of a buttock implant. Perhaps they feel that their body isn't proportional, or their behind is too flat or saggy for their liking.
Suitable candidates must have unwanted fat in an area of the body (such as the stomach, thighs or lower body) that can be removed and used to augment the buttocks. To qualify for surgery, individuals should be in good general and mental health, and free of any medical conditions that could impair healing or raise the risks of surgery. They should have reasonable expectations of the results of surgery and expect improvement (not perfection).
Dr. Khalil meets with each candidate personally to discuss their treatment goals and determine the approach that best suits their unique needs.
Treatment Details
Brazilian Butt Lift surgery is an outpatient procedure that involves several steps. Anesthesia is used for total patient comfort.
First, Dr. Khalil uses liposuction techniques to remove excess body fat from the donor area. Most of the time, the donor area is the abdomen, thighs or lower back. He injects tumescent fluid, derived from local anesthetics and epinephrine, into the treated area, which numbs it and controls bleeding while making the fat easier to suction. After Dr. Khalil has removed enough fat, the fat is processed and purified. Only the best donor cells with the highest permanent absorption rate are selected to use going forward.
Dr. Khalil then makes a series of injections of the fat at various depths. He usually concentrates on the upper quadrant of the buttocks to give it a "lifted" appearance. The fat injections are made carefully and deliberately to achieve optimal fullness and shape. Dr. Khalil may make a few more injections than necessary, as not all of the injected fat tends to survive the procedure.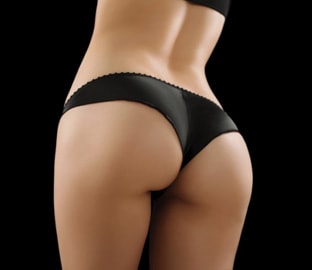 Recovery and Results
After surgery, a compression garment is placed over the buttocks to help support the healing tissues and minimize swelling.
Most Beverly Hills BBL patients recover at home for about two weeks before resuming work and other normal activities. During this time, patients need to refrain from sitting on their buttocks as much as possible as it heals. Dr. Khalil monitors his patients closely to check their progress, answer questions and keep an eye out for any potential complications.
After healing from surgery, the waist should look smaller in comparison to the bigger buttocks (imagine an exaggerated hourglass shape). Brazilian Butt Lift patients often marvel at how natural the butt looks and feels. Although modern butt implants are advanced, they are no substitute for the feel of natural fat and tissue in the butt. Once the fat develops its own blood supply, it can survive long-term. Another advantage of Brazilian Butt Lift is that it creates a beautiful body shape without leaving any noticeable scarring.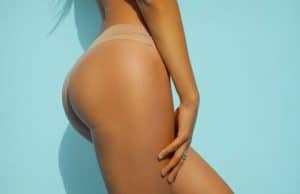 Frequently Asked Questions about Brazilian Butt Lift
What is the difference between traditional buttock augmentation and Brazilian Butt Lift?
Traditional buttock augmentation enhances the buttocks with the placement of an artificial implant, whereas Brazilian Butt Lift uses the patient's own fat from another area of the body to create shape and fullness.
Every patient's preference is different, but many patients feel that their own fat gives a more natural look and feel. There is also a lower risk of infection and other complications, since the patient's own tissue is used as opposed to an artificial implant.
Can I have Brazilian Butt Lift if I am skinny?
Most of the time, Dr. Khalil can find extra body fat to use for the procedure, even in individuals that are slender. If you are very underweight, he may suggest placing a buttock implant as an alternative to fat grafting.
Does Brazilian Butt Lift hurt?
Everyone has different pain thresholds and tolerates the procedure differently. However, Brazilian Butt Lift usually doesn't cause significant pain. The treated areas may feel sore and tender for a few days after surgery, but the sensation is more akin to an ache instead of pain. Post-operative swelling is also common. Oral medication is prescribed to alleviate discomfort after surgery.
How much does Brazilian Butt Lift cost?
The cost of Brazilian Butt Lift varies by patient and depends on how much fat is removed, the areas the fat is taken from and other factors. For a personalized pricing quote, please schedule a consultation with Dr. Khalil and our team today.
How long do the results of Brazilian Butt Lift last?
When performed by a qualified and talented surgeon, Brazilian Butt Lift results should last for many years. The best surgeons know that a portion of the injected fat is typically absorbed by the body, and can take this into consideration in treatment planning. They may slightly over correct to compensate for some of the fat absorption after surgery. The goal is to achieve results that look beautiful and natural and last indefinitely.
What are the risks of Brazilian Butt Lift?
Like any surgery, Brazilian Butt Lift has risks. Potential complications include the following:
infection
fluid buildup under the skin
adverse reaction to anesthesia
fat embolism
pulmonary embolism
deep vein thrombosis
overcorrection or undercorrection
asymmetrical results
irregular contours
Qualified plastic surgeons like Dr. Khalil take special precautions to minimize these risks and prevent complications. Dr. Khalil goes over all of the risks of Brazilian Butt Lift prior to surgery so you can make informed decisions about your care.
Does Brazilian Butt Lift leave scars?
Thin, hollow tubes called cannulas are inserted through short incisions in the donor area to harvest fat. Then it is injected with thin needles into the buttocks. Dr. Khalil is careful to place the incisions in the natural creases of the skin so they are not noticeable after they heal. He can also recommend topical products or treatments to lighten any scars.
Can the results of Brazilian Butt Lift be reversed?
If needed, Dr. Khalil can reverse some of the effects of surgery by using liposuction techniques to remove some of the transplanted fat. This is helpful to correct asymmetrical results or contour irregularities.
Learn More About Brazilian Butt Lift in Beverly Hills
For more information about the Brazilian Butt Lift procedure and how it can help you achieve your desired body contours, please call or email our practice and schedule a consultation with Dr. Khalil.
Recovery
After the surgery is complete a patient is provided with a compression garment that will be worn for a month in order to help the treated areas heal properly and further improve the patient's new contour. The patient will need abstain from sitting on their bottom as much as possible for the following two weeks in addition to other restrictions that will be discussed in detail at the free consultation so each of our patients may make the proper arrangements to ensure a timely recovery.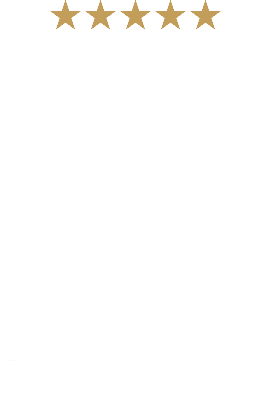 Our Reviews